about Shiga Kogen Region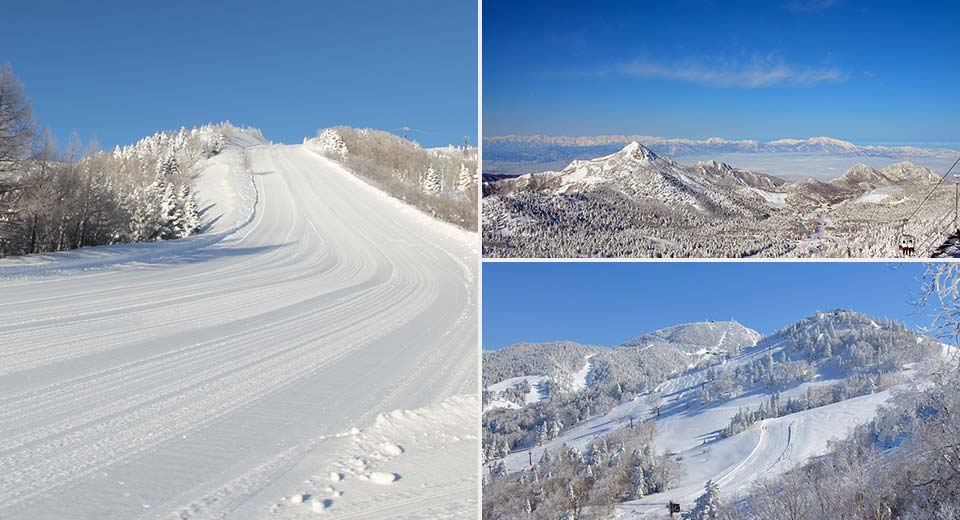 Shiga Kogen is one of the Japan's most famous mountain resorts, which is located about 50km northeast of Nagano City and 250km northwest of Tokyo. Shiga Kogen consists of 18 ski resorts and operate as one ski resort. It is the biggest ski resort in Japan, which has 425ha area, 47 lifts. In 1998 Shiga Kogen hosted alpine ski competitions during a Nagano Olympic game, such as men/women Slalom, women downhill.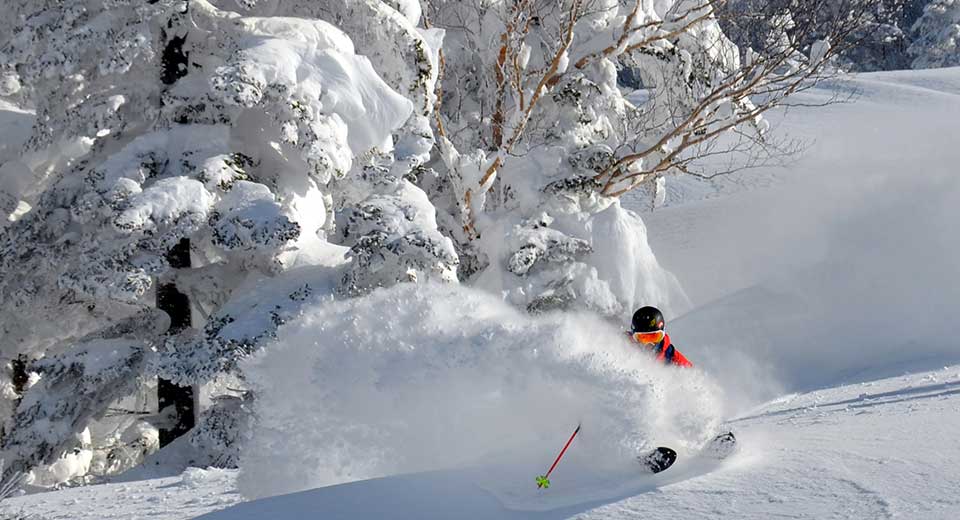 Shiga Kogen is also known as a ski resort with the highest elevation in Japan. Shiga Kogen's "Kogen" stands for "highland" in Japanese. The peak of the resort is over 2,300m. Because of high altitude and low temperature Shiga Kogen receives powder snow which is drier than other resorts in mainland (Honshu), such as Hakuba, Myoko etc.. Shiga Kogen can secure enough snow to operate even in the mid of December unlike other resorts in Nagano and Nigata.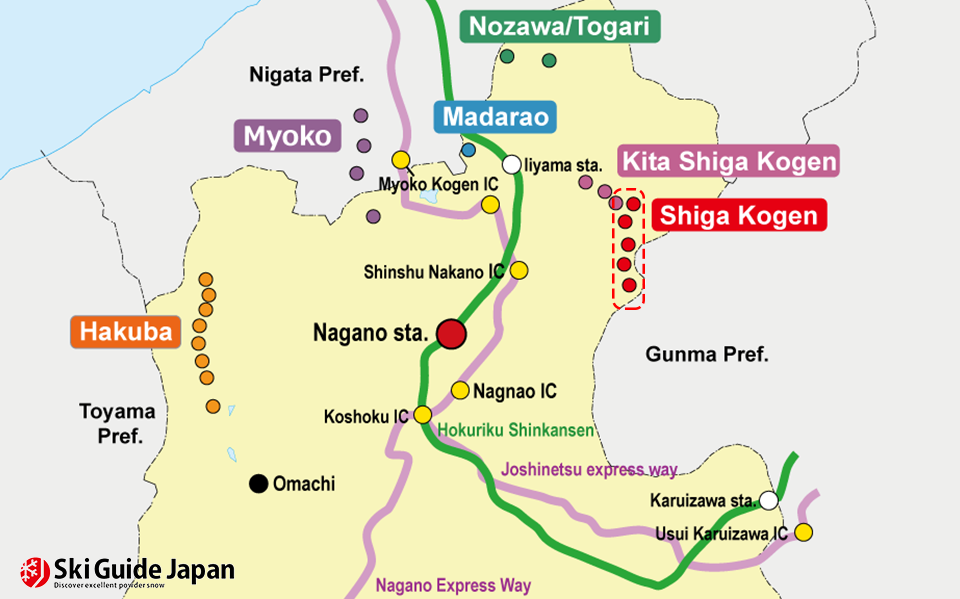 Shiga Kogen is located in the northern west part of Nagno prefecture and it is around 1hour distance by bus from Nagano station (45km). From Tokyo it takes around 3-3.5 hours by the combination of the high speed train and the express bus. In the resort there are many accommodations. On the other hand public restaurants and bars are very few. Most of the visitors have dinner in their accommodation (This is a Japanese ski resort style, most of accommodation fee includes dinner). World famous "Snow Monkey Park" where you can see "Bathing snow monkeys in the hot spring" is near from Shiga Kogen. It just takes around 30min by bus.
Ski resorts in Shiga Kogen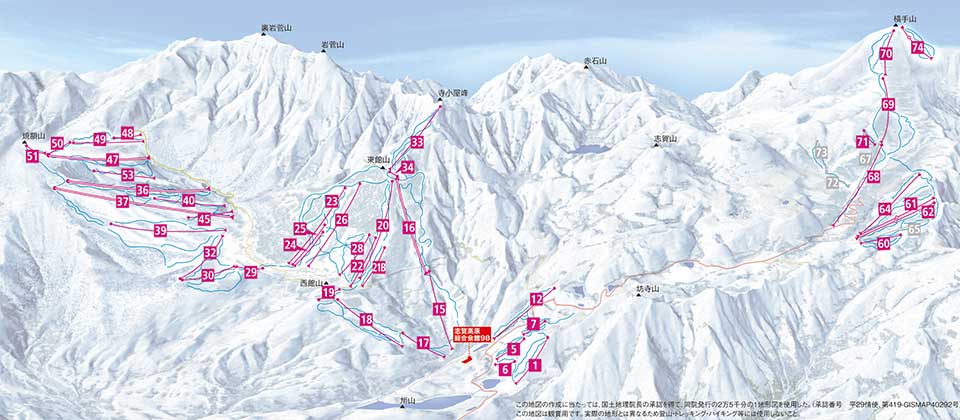 Shiga Kogen stretches across from north to south approximately 10km, elevation between 2307m to 1325m. There are 18 ski resorts which are interlinked and accessible via one electronic lift pass. It's possible to get around most of the Shiga Kogen ski resorts via the slopes, but a lift pass also provides free access to a shuttle bus system that travels around. The Shiga Kogen's terrains are varied and ranges from beginners' slopes to expert's steep slope. Many of them is very well groomed and you can enjoy wonderful cruising.
Basic Information about ski resorts in Shiga Kogen
Detailed information about each ski resorts
You can use following links to obtain detailed information about each ski resort. Several ski resorts are grouped based on the area.
Lift Ticket Price
ShigaKogen All 18 Ski Areas Common Tickets
Type
Adult
School age(13-18 years)※
School age(6-12 years)
Child
under 6 years old
1 Day
JPY5,500
JPY4,700
JPY2,700
Free
4 hours
JPY4,800
JPY4,100
JPY2,400
Free
※Senior(same price as School age of 13-18 years)
Getting to Shiga Kogen region
From Tokyo to Shiga Kogen
From Tokyo, the most popular way to get to Shiga Kogen is a combination of high speed train and bus. Night bus is also available. The following is detailed information about each method.
By highspeedtrain(Shinkanse) and Express bus via Nagano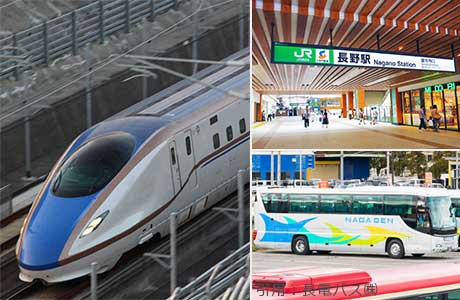 From Tokyo, the most popular way to reach Shiga Kogen is by the combination of train and bus. The high speed train (Hokuriku Shinkansen) from Tokyo to Nagano station, which takes approximately 80-100 minutes, followed by a 70-90 minutes bus ride to the ski resort. Since Shiga Kogen is so huge, the bus stops at several major areas of Shiga Kogen. For example, to go to Oku Shiga Kogen which is located at the northern deepest part of Shigakogen, it takes additional 20 minutes from the central part of Shigakogen.Thus, the total journey time from Tokyo to Shiga Kogen is around three to four hours, including the time to change from the high speed train to bus. The bus service is available from roughly 8:25 to 17:25 depending on the day, which is operated by "Nagno bus". From January to March only on Friday there is an additional bus service which departs 21:15 from Nagano station. Total transportation cost as above is around JPY 10,000.
Night Bus
From Major stations such as Tokyo station, Shinjuku station, direct night bus to Shiga Kogen is available. Normally it departs around 22:00 and arrive at Shiga Kogen in the next morning around 6:00-7:00. Most of these buses are arranged and sold by travel agencies. Average price is around JPY6,000-7,000.
From Kyoto/Osaka to Shiga Kogen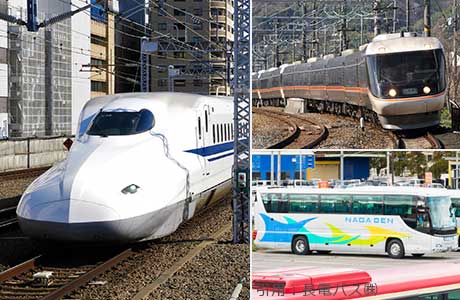 To get to Shiga Kogen from Osaka, Kyoto you need a little effort, it takes approximately five and a half to six hours in total. Firstly, you take Shinkansen and go to Nagoya. It takes around 40-60minutes. Then you transfer to express train "Shinano " which bounds for Nagano station which takes around 3 hours. The transportation from Nagano station is same as above.
Accommodation in Shiga Kogen Region
Shiga Kogen has a large variety of accommodations across the ski resort. Many of them are very close to slope and offer ski-in ski-out style. This point is one of the advantages of Shiga Kogen compared to other resorts. Although there are many western style name hotels, most of them mainly offer Japanese style rooms with tatami flooring (Japanese style rooms). Of course western style room with bed are available. The number of them is less compared to Japanese style room. Prince hotels in Yakebitai area provide most modern western style accommodation which is suitable for foreigners. Two hotels in Oku-Shiga Kogen area are also nice for foreigner and you can also enjoy ski-in ski-out style. The other option is staying in Shibu Onsen(hot spring) town located on the foot of Shiga Kogen and feel the real Japanese culture. To get to Shiga Kogen from Shibu Onsen it takes around 30 minutes.